Arceli's Place is a hip boutique hotel start-up that delivers luxury and comfort at rates that won't break the bank.
The Opportunity
The hostel and hotel business is a highly competitive industry — guests want the best quality at the lowest possible price. And hoteliers want to maximize room occupancy so that they can turn a profit.
Rather than entering the market as a low-cost competitor to hostels where cut-throat deals are the norm, we encouraged the client move away from this business model and differentiate their offerings by focusing more attention on privacy, comfort and great amenities.
It was a breath of fresh air working with Elastic Teams — not only did they come up with great ideas, but they also made us look at the business in a different way. And that's something we had never experienced before when working with other companies.

Sophia Vergel De Dios, Founder, Arceli's Place
The ideal market for the hotel is the Gen Y crowd. These are tech savvy travelers who do everything from their phone — from posting updates to their Instagram account to booking a hotel online.
To address these demands, the team adopted a Mobile-First design strategy where mobile users are treated as first-class citizens.
Building an Identity & Visual Direction
Our in-house marketing went through a branding and identity exercise with the client to build a brand image that resonates trust and comfort with travellers.
Wireframes for the site were devised with the main focus on mobile usage. This helped communicate the site structure and characteristics of the user interface to the client.
After several design iterations, high-resolution mockups were produced to illustrate the visual direction to the client.
Less is More, Faster is Better
Web page abandonment rates for mobile websites are very high in the travel and hospitality sector. Abandonment refers to visitors who leave a page before completing a desired action, such as booking a room.
Telltale signs of high abandonment rates are linked to slow loading pages and poor usability. Google discovered that 53% of all mobile visitor abandon a page if it takes three or more seconds to appear on the screen.
The development team worked on building a highly optimised mobile experience by adopting state-of-the-art techniques:
Use latest compression for videos, images and page content
Only load media when the content is scrolled into view
Serving different media types and sizes depending on the device being used
Reduce render-blocking for near-instant page loading
Extensive use of Scalable Vector Graphics (SVG) to accelerate loading
Use HTTP/2 Push for pre-empting asset delivery
Deploy website as a Progress Web App (PWA)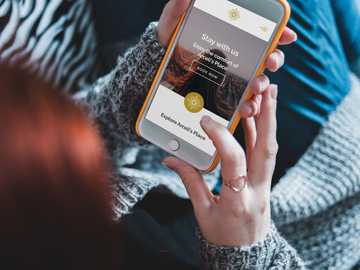 Progressive Web App
The development team built and deployed the website as a Progressive Web App (PWA).
PWAs behave just like installable apps that are downloaded and installed from the Google Play and the Apple App Store, but without going through the tedious app approval process.
The great thing about PWAs is that they load extremely fast and can be stored in the memory of the mobile device. This also means that they can work offline and can be launched from the home screen of your phone just like a regular app.
The Outcome
The mobile optimisations performed by the team resulted in a perfect score on Google's Lighthouse report, which is no easy feat.
Page load time is down to one second, even on slow 3G mobile connections.
And more importantly, Arceli's Place is getting great traction for a start-up and is enjoying high positions on Google mobile search.
We know that Elastic Teams have done a superb job with our brand and website — I only have to listen to the wonderful praise given by our guests. Needless to say, our bookings have gone through the roof!

Sophia Vergel De Dios, Founder, Arceli's Place